Natural Sales Training
Rated as Excellent by 98% of our clients! Proven in 1000+ Companies! Audited ROI of 20:1.
Natural Training has changed the world of sales training by working with over 1000 European companies and playing to the strengths, personality and culture of individuals and organisations.
This results in sales training that feels immediately more useful and practical, flowing through your blood rather than stuck in a workbook. Help your team develop a winning sales structure, grow in confidence and motivation, increase outbound activity, and win more new business at meetings and pitches.
Put simply, Natural Sales Training will make you money.
The Natural approach to Sales Training is unique:
Bespoke courses created around your company culture and natural personalities.
We have an audited Return on Investment of 20:1. Spend £10,000 on our sales training and receive £200,000 back in additional sales.
Europe-wide training company.
Our Sales Training experts have trained in over 40 different industries.
98% of our customers rate our Sales Training as "Excellent".
"Absolutely brilliant, the best training I have had in my experience in this industry (17 years). You are a fantastic team and very dynamic."

Regine Perron, Clarins
Award Winning Sales Training
We win awards for our sales training, such as Global Sales Programme of the Year at the prestigious Golden Peacock Awards.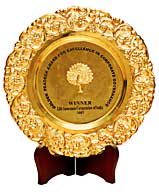 Why? Because we don't do 'off the shelf' training – you can buy a book and do that yourself.
Success comes in different shapes and sizes. But you wouldn't think so to look at most training curriculums. People are herded into a classroom and expected to twist themselves into a 'proven methodology' with no respect for their natural style or personality.
Here at Natural Training, we take a different approach. We believe that there are many ways of getting your team from where they are now to where you want them to be. Our talent is finding the right way for them – that creates the right results for you.
So, we spend a little extra time up front, working out how you make money. We build a solution around your strengths – your best sales people, your best target customers, and what drives your industry. Then we match you to a trainer from our Faculty with the right blend of experience. That means that you get a sales training programme that feels like yours – your language, your challenges, your customers featured in the scenarios and examples.
Long after the training programme is finished, the results will remain, because it's part of your culture, your DNA.  That's why when we hand over the reigns, and release your people back into the wild, we are certain that you can go from strength to strength without needing us any more.
Our sales training is relevant to today's market, and will develop your team's natural instincts to be clear, memorable and confident. As always we refuse to create a room full of robots. Each member of your sales team will learn how to maximise their natural style to full sales advantage.

"Enjoyable – learnt throughout the day and got more confidence as the day went on. Came up with new ideas such as getting through gatekeepers that I hadn't thought of before. I found it easier to get appointments – I will put aside time each week now to make new business phone calls."

Gary Hudson, Westfield
Our Transformation Courses
Serious about ROI? So are we.
Our mission is to provide companies and sales teams in the UK, Europe and the world with sales training that makes you money.
We provide successful selling strategies that close more new business, improve customer relationships, increase customer retention and deliver real value to your customers.
Our style is practical and hands-on, designed around the needs of today's sales people. Sales teams won't appreciate getting bogged down in theory – they want to participate, learn, and most of all, do. We bring energy to the training room, we come loaded with practical ideas, years of experience and sound knowledge based on years of research.
With Natural Sales Training you will also have access to a leading sales expert for a decent, common-sense day rate. Our trainers are exceptional – they live and breathe sales. The Natural Sales Training Company is available to train your sales team in a bespoke sales training course according to your brief, or via any of the following popular workshops:
Value Selling – Getting Customers to Buy at a Premium Price and winning business in highly competitive markets. This sales training is about finding out what value looks like, then building a powerful value proposition – and then articulating that value in a way that inspires. Click here to find out more.
Consultative Sales Training – Question Based Sales tools to develop key conversations. We teach your sales people to listen with an ear to understanding.
Strategic Account Mapping – Hope is not a sales strategy. Developing your key accounts comes down to a robust and repeatable process. We show your team the key to sales mapping success.
Customer Relationships – Relationships first, results second. We help your team to improve their selling relationships, making the transition from "seller" to "trusted advisor".
Proactive Selling Energy – We help your team to WANT to pick up the phone and become a sales maker, with the motivation to deliver their numbers.
Opportunity Management – Reprioritising your team's proactive selling efforts to spend more time on the most profitable sales opportunities are.
Sales Management Training – Great sales teams aren't born, they are made. We can help you to create and nurture a winning sales team.
We're not like the others – and we're proud of it
We don't do "off the shelf" sales training, because you have challenges unique to your team, your industry and your customers. Instead we listen to your needs and produce fresh sales training that will change behaviours and meet your performance targets
"Excellent – small workshop, great resources, relaxed atmosphere, nice trainer, very practical and best of all enjoyable."
Alison Ozanne, Virgin
An Expert Team
At Natural Training we pride ourselves on having a team who are dedicated to bringing the best training experience to your organisation. Our experts have worked across many sectors and each have unique strengths we can directly apply to your needs. For a real introduction to the team, follow the link below.
"Made me more assured of myself – how to maintain control of a negotiation, and systematically analyse a negotiation with the key players involved."
Julie Thompson, Group KAM, Panalpina
Sample sales training courses
Manage accounts in a proactive way. Grow sales revenue from your existing customers – we can help you up-sell, cross-sell and generate raving, loyal fans among your customer base.
Fine-tune your team's natural sales performance. Even the best can get better and high performing teams can sharpen their focus.
Successful selling is your birthright. The foundation skills for sales success – utilising your natural style.
Effortlessly handle objections and close the deal.
Move your audiences to action – be clear and persuasive
Procurement doesn't always focus on price. It just wants you to think it does.
Selling at Tradeshows – learn how to organise your time, generate leads during the trade show, and follow up in the right way afterwards.

Is your team feeling a bit jaded? We integrate high power sales motivation sessions into all of our training, conference sessions and more.
Getting customers to buy at a premium price and winning business in highly competitive markets.