5 Questions to Ask Your Sales Employees
Your job as a Sales Manager is to naturally help your sales team succeed. To do this, you need to understand what they deal with on a daily basis. Asking the right questions will give you valuable insights for improving sales. It will also show your team that you honestly value their input and care about helping them become better salespeople. These 5 questions to ask your sales team will not only result in your team performing better, but you will become a better manager.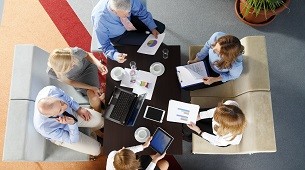 Asking the right questions, therefore, is just as much about motivation as it is about sales performance.
What is the biggest obstacle for gaining new customers?
It's hard to function as a vibrant, productive sales team if your representatives are struggling to pickup new customers. Understanding how they interact with new leads and identifying the biggest challenges your team faces will help you remove barriers and gain more new business.
Perhaps your team is facing objections to pricing. Maybe operational procedures are keeping them from effectively courting new business. Whatever the issue may be, asking about your team's obstacles is the first step to giving them a clear path.
What do the best leads have in common?
Perception is not always reality. You, your sales team, your company, and the group responsible for bringing in leads may all have entirely different images for what constitutes a "sales-ready lead."
Talk to your sales reps about general trends and traits for good leads and you may discover that your idea of a lock-down buyer is entirely different than your team's.
What is the one thing our customers like the most?
Are your customers responding well to product demonstrations? Are they laying down their money after a free trial? Are they highly engaged with ebooks or webinars? Talk to your sales team and find out what system is the most effective for engaging engaging potential customers.
When you identify what your customers (and hopefully future customers) are responding to, you can focus your efforts to make this type of communication more prevalent and more effective. By process of elimination, you can also stop wasting time in techniques that don't produce results.
Read here about the importance of understand what your clients like the most – Don't confuse your clients
Who are we loosing business to and why?
You have to know the competition. One of your most important jobs as a Sales Manager is to stay up-to-date on what the competition is doing, how they are doing it, and why. This should target specific competitors as well as the industry as a whole.
Ask your sales team about the competition. What names are potential leads bringing up? Who have they already bought from before we get a chance to sell? Knowing what the competition is doing can help you stay ahead of the curve at all times.
What would help you sell more?
This is a very broad, yet very effective question to ask your team. There can be a myriad of answers, from less non-sales responsibilities to more brand-awareness campaigns. You never really know until you ask.
This, perhaps more than any other question, should be asked often, as the answer will inevitably change. As your team gains sales experience and confidence, they may develop different ideas of what would help. Ask for their feedback on improving the process and you'll have a better sales system and a better sales team!
Bring Out Your Natural Leadership
Want to unlock the best in your team? Start by unlocking the leader in you with our sales leadership and sales enablement programmes.
Got a comment?
Catch us on Social Media and join the discussion!
Liked this article?
Subscribe to receive sales insights and tips directly to your inbox.