5 Tricks to Building a Positive Team
There's something thoroughly engaging about being part of a group that collaborates and enhances each other's natural talents. Together, you can come up with some incredible ideas, and you'll probably turn out your best work with them.
If you ever had the pleasure of being part of a positive, highly motivated team of colleagues, you were probably happy to go to work each day, and you probably performed at your peak.
Teams that have a positive outlook and are highly motivated are not only more fun to work with, but generally achieve much more than those struggling with low morale. Innovation and greater flexibility are just a few of the benefits of a highly functioning team.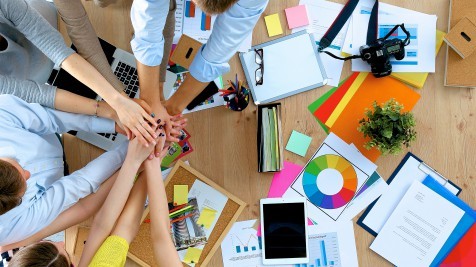 A positive outlook has consequences for your team's professional success and has been linked to higher earnings. Beyond the professional realm, a positive outlook has also been linked to boosts in creativity and even better immune system functioning.
A study by Harvard's School of Public Health found that the sense of enthusiasm and engagement resulting from a positive outlook appears to reduce the risk of coronary heart disease!
Taken as a whole, developing your team with a positive outlook isn't just good business sense if you want them to succeed, but the overall professional and personal impact is great.
"If you want to build a ship, don't drum up people together to collect wood and don't assign them tasks and work, but rather teach them to long for the endless immensity of the sea."

– Antoine de Saint-Exupery
So how do you go about building a positive, highly motivated team?
The following 5 tricks will get you started towards creating Superstars:
1. Always look for the good
Don't try to capture team members doing something wrong; always be on the lookout for those moments when they're doing their best.
Reward and celebrate the good; point out their moments of brilliance instead of dwelling on mistakes. Take time in your regular staff meetings to give out an "Atta Boy" to someone who's gone above and beyond. And train your team to look at each other with the same eyes. Ask each person to come to the meeting prepared to say something positive about another team member. You'll build each other up this way.
2. Learn from each other
Each person on your team has a unique way of doing things that can benefit the entire team. Don't let team members keep their wisdom locked away inside. Encourage them to share titbits of advice and inspiration with the entire team. Set up a communication system, whether it's face to face or electronically, for team members to share what works and doesn't work for them so that everyone can learn the best approach quicker and easier.
3. Listen to everyone's ideas
When one person is the only one coming up with ideas, your results won't be as stellar as they could be if everyone on the team collaborates.
"Great things in business are never done by one person, they're done by a team of people."

– Steve Jobs
Set a rule that every idea is open to discussion and never derision. When your team feels free to share ideas, magic happens.
4. Develop friendships
Be spontaneous. Have a little fun. Let people get to know each other outside of the office. They might just realize they have more in common than they thought. People who enjoy each other's company will be more committed to each other and will work harder to not let their teammates down. This includes management.
5. Let them be themselves
Each person is unique and brings his or her own natural talents and abilities that enhance and strengthen a team. Don't look to make each person on your team into a cookie cutter version of your picture of the ideal team player or the perfect salesperson. Instead, celebrate their individual gifts and encourage them to find their natural style. Help them soar.
A positive, highly motivated team is engaged and happy, much more productive, and can smash sales goals.

Build that team, and watch the effect it has on your company's bottom line.
If you want to ensure your team functions at its highest level, Natural Training offers solutions that bring together individuals, enhancing and encouraging their natural talents, to set them on the right course to becoming a well-oiled sales machine.
For a free consultation on how to transform your sales force into a high performing team, contact us today:
Got a comment?
Catch us on Social Media and join the discussion!
Liked this article?
Subscribe to receive sales insights and tips directly to your inbox.