Why a Business Proposal Is Like A Marriage Proposal
We are coming up to the day when Cupid fires his arrows of love in all directions, with a steady few targeted at smitten couples.  Valentine's Day is one of the most popular days to pop the question. Proposals are tender, intimate and beautiful and they may bring a tear to the eye.  They are also the biggest business pitch of our lives, something we prepare for more than anything else.  We are never as nervous when trying to convince the other person to invest everything they have in us.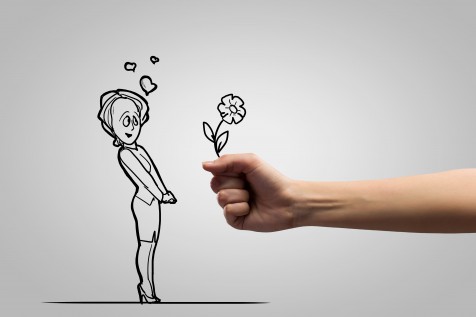 In fact marriage proposals and business pitches are very similar, sharing the same four key elements:
Knowing Your Audience:  During your time with your significant other, you will become familiar with their likes, loathes, dreams and desires.  You will know them inside out, so much so that you both complete each other.  Therefore, before you pop down on bended knee, you should have a good idea that what you are offering is what the other person truly wants.
Likewise, the key to a winning business pitch is thorough research.  Unless you are pitching a time machine, your product is not going to sell itself.  Making a good pitch requires you to know your customer, their needs, pain points and what interests and motivates them.
Providing an Incentive to do Business:  You should not need to hard sell your best features to hear the love of your life say the magic "yes" word. You are so attentive and adorable that by the time your reach the proposal stage, your partner is crystal clear about what they have to gain by spending the rest of their life with you. The moment you start pleading and saying why you are the best thing that's ever happened to them, it's game over.  Put the ring back in your pocket, there's no deal here.
In business, you will win more clients by focusing on their needs.  Demonstrating how your products are tailored to addressing their particular requirements is enough of an incentive for them to do business with you.  Remember, it's all about them, not you.  There should be no need to bombard them with a long and heavy sales spiel.
Selecting the Right Environment: Many hours of research go into where the marriage proposal will take place, whether it is on a sun-kissed Hawaiian beach, at the top of the Eiffel Tower or in a candle-lit restaurant.  Selecting the right environment and ambience is vital to sweeping the other person of their feet.
While you don't have to woo your sales prospects with flowers and chocolates or whisk them away to a tropical destination, the right environment is also of paramount importance.  What impression do you think you are giving if a client turns up to your office and sees peeling wallpaper and the stuffing coming out of chairs and sofas?  You must also create the right emotional environment, one that is positive and upbeat.
Closing the Deal: There are no magic words that will guarantee your proposal of marriage will be a success.  Although, "I love you more than life itself", "you're the best thing to happen to me" and quoting love sonnets will help.  Similarly in business, there are no set words or phrases that will seal deal, but be confident, maintain eye contact, communicate clearly and smile. Use that same winning smile that won over your life partner.
Enduring Relationship
A successful marriage proposal is about picking the right moment, making it personal, planning and doing research.  And of course, you must be an irresistible offering.  Likewise, in business, if you have a great product or service that satisfies needs, people will be willing to buy.
But remember, the pitch and the proposal are only the beginning.  True success comes from relationships that endure.
Finding Your Natural Communication Style
The Key To Audience Motivation: Pulp Fiction
Got a comment?
Catch us on Social Media and join the discussion!
Liked this article?
Subscribe to receive sales insights and tips directly to your inbox.