Become a Natural Sales Trainer!
Do you want to work with inspiring people and some of the world's biggest brands?
Do you want to learn the secrets of how Natural Training engages salespeople, creates lasting behavioural change and delivers 22:1 ROI to our clients?
Would you like to receive a regular stream of UK and Global training assignments?
Are you ready to make the career transition from sales into training?
Matt Drought on applying for a role
Work with the world's biggest brands
Natural Training works with the world's biggest brands, such as Sky, Invesco, Canon, Cisco and the BBC.  Recently we ran a presentation skills workshop in Denmark with the top Executives at ASICS including the CEO.
If you want exciting and varied training assignments with the world's biggest brand names, then you should become a Natural!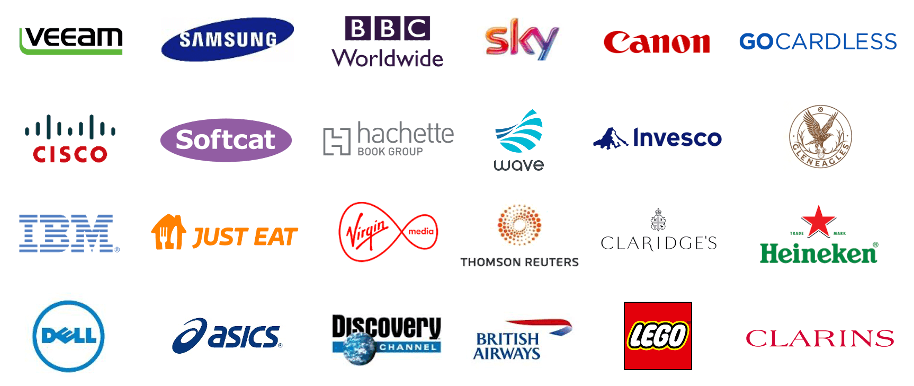 Award winning programmes
We have won lots of awards for our training  programmes because we focus on real outcomes for our clients such as increased sales, boosted closing rates and winning pitches.
Our award-winning sales training programmes provide end-to-end development throughout the career of a salesperson, from Apprentice to Sales Director.
When you apply, look at the presentation from Matt Drought (above on this page) and let us know which of the 4 areas you would be best to focus on:
Developing natural, authentic sales potential
Our trainers love the Natural USP and the way we change a culture, versus simply 'providing training'.
We're all about building authentic selling behaviours, which means we spend extra time to understand the culture of each client, the way their sales team operates, and the natural style of the individual.
This means you can be confident that you are going to have a real impact with our workshops and blended learning programmes.
No formal training experience necessary
If you have training experience, that's an advantage, but it's not essential. Some of our most successful trainers have been plucked straight from the world of business.
What's more important is that you bear the scars of sales success: you've worked to a sales quota, and managed people who do.  You've managed teams through the hard times, making the tough decisions.
Also important is that you have an open mind, and a thirst for feedback and development. We'll give you ongoing training and development to excel in your role, and help you build your portfolio with feedback on your results in terms of measurable ROI.
We closely track the results of all our programmes, so you will know with absolute certainty that the work you've done has made a difference.
You'll also need high energy and strong stamina, the ability to captivate and hold the room and the resilience to be challenged by learners who are restless in their quest to improve their performance.
Superb back-office support
We do all the things you don't want to do.  Everything is taken care of for you – training design, learner communications, logistics and client liaison.  No more booking your own travel and hotels, or struggling to the venue with armfuls of handouts. All that is taken care of for you.
This leaves you to focus on what you do best, which is to deliver outstanding training.
We give you leads for your own business
If we get leads that don't suit our programme types and focus, you can have them for your own business.
A little bonus from Natural Training!
Work with our amazing faculty of trainers
We have a diverse, global network of Associate Trainers who form the lifeblood of our organisation.
Many of our trainers have developed life-long relationships with each other, which provides them with a virtual team who cares and shares feedback, ideas and opportunities.
We can't wait to introduce you to our vibrant, brilliant faculty!
Apply now!
Ready to apply?  Here are some tips and ideas:
Firstly, it will really help if you have seen this video with Natural Training founder Matt Drought.
Then, applying with Natural Training is easy.  Simply film & upload a short video outlining why you would like to become an Associate Trainer with us.  If you want to work full-time, then let us know too – there are opportunities for you.
We will watch your video, give you some feedback (if you want it), and reply to you within 3 working days.
If your video and approach is a good fit, then the next step is a video call with Matt Drought.
Then we ensure you are up to date with our programmes, and get you some opportunities!
Any questions prior to filming your video, let us know!
Email us your video link now: recruitment@naturaltraining.com