Sales Prospecting: Tips and Techniques
When it comes to sales prospecting, it is often thought that exceptional salespeople have extraordinary talents.  This is incorrect.  The best sales people simply spend their energy on revenue generating activities and spend less time on the activities that tend to get in the way of success.  Less paper shuffling and chats with colleagues, and more calls, conversations, and meetings.  It's really that simple.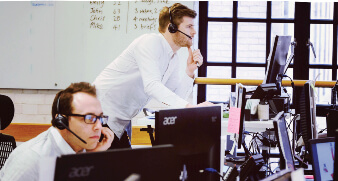 What is Sales Prospecting?
Sales prospecting is about outbound activity to approach potential clients. The most common types of prospecting are by phone, email or social media, e.g. LinkedIn.
This activity should ignite your prospects' desire to act via a committed meeting, discovery call or demo that becomes sales pipeline and could then lead to a new closed sale.
Why is Prospecting Important?
"90% of sales slumps can be linked directly to failure to prospect" Jeb Blount, Fanatical Prospecting
Prospecting is like a muscle – if it lies dormant, it starts to atrophy. With this habit called Prospecting, the battle is often won or lost 'between the ears'. If prospecting for new business falls by the wayside then you could end up with 'Prospecting Performance Paralysis' in your team.
Prospecting Performance Paralysis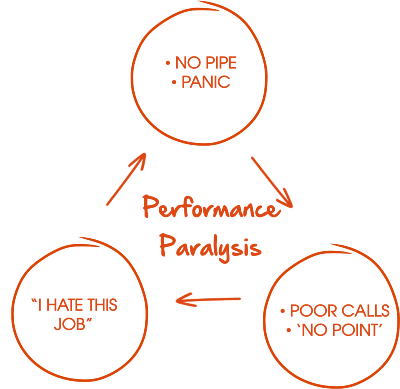 So, what's the solution? What you're looking for is 'Performance Growth':
Performance Growth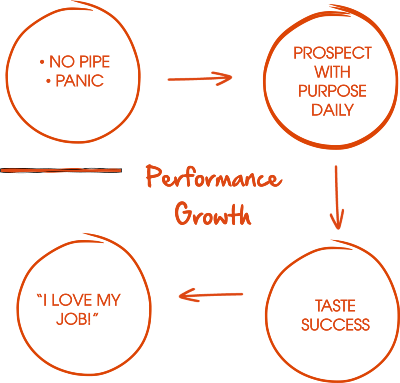 Sales Prospecting with Purpose
By putting more focused effort into your outbound approaches, with a stronger connection to making each moment matter – the most effective each approach can be.
Planning with purpose, generating leads with purpose, conversations and follow-up with purpose. Then, discovering real pride in the success that follows, leads to success and proper job satisfaction!
Sales Prospecting by Phone
Don't believe the myth that cold calling is dead. Smart outbound calling ABSOLUTELY deserves a place in your prospecting mix. There are so many advantages of sales prospecting by phone. Here are just a few:
Fresh flow of new leads
Finger on the pulse with your market
Exciting – there's nothing like it!
Gives you the control & power (If it is to be, it's up to me)
Winning, vibrant, vocal culture
(and it's actually pretty easy with the right techniques).
A Simple Sales Call Structure
Once you've established a list of prospects to call, it could be new or existing clients, the next step is to follow a structure in your outreach. Here's a simple sales call structure to follow:
Get the first 15 seconds of the call right, and you buy yourself another minute or so. Get it wrong, and you've lost them at the start.
Discovery (questioning & listening)
There are questions and and there are questions that sell. Brainstorm your best questions and have them prepared for your calls. Even better if you can do this with your team members and share your knowledge. There are 5 questioning structures you can try which will give you every chance of engaging your prospects, naturally, and authentically, moving you closer to finding out their challenges and solving them with your solutions.
1. Open ended questions. These work well to gain the right information. They can't be answered easily in a single word. E.g. "can you explain to me", "what is currently on your list of challenges"
2. Scale Questions. These are easy for customers to answer, you often get a very quick and honest response. E.g. ""On a scale of 1-10 how important is delivery before midday for you?" Question further around the response they give. E.g. if they answer 9/10, ask, "is that what you'd like it to be or what it is currently?"
3. Two-Part Questions. These work great for you to engage the prospect – it's really hard for them to be doing something else such as typing while you are asking a two-part question – so it breaks preoccupation.  Quite often they will say "Sorry can you repeat that question?", which is what you want – that's engagement!
4. Hook Questions – Hook questions demonstrate you have done your homework by creating a link to their world. Two parts – I noticed…, then question to assess the impact, or implication, on the prospect. "I noticed on your website that you're looking to expand the business, what are the timings for this?"
5. Isolating Questions. These questions strip away the clutter "What's the most important thing for you to achieve this quarter." This can isolate the crux of the customer's buying criteria.
When it's time to pitch your solution, you need a go-to structure to quickly come up with a a company or product story with value at the heart of it. Our favourite structure is CSR – challenge, solution, result. State their challenge, then your solution and the results they will achieve; the proof, data, evidence.
Remember that when you cold-call, you may be interrupting someone's day. They may not want to listen, and sometimes they will try to brush you off early on the call. "I understand John – could I have 10 minutes with you this afternoon at 3pm please when you have more time to talk?"
Driving towards a next closing step is a hallmark of great selling. We use tools like the 'trial close' and 'just suppose' close in our training.
Why is a structure important?
A clear structure enables you to more accurately work out where you are going well, and where calls and interest is dropping.  This then becomes a great focus for you – e.g. "They seem keen on the First 15 seconds, but then they lose interest in the Discovery section".  Better questioning and listening is needed!  Or, "I'm losing them at the pitch stage." What can you do to bring them along with you? Maybe get them online to visualise what you are talking about.
Sales Prospecting by Email
There are ways to create emails that have true impact – with your natural personality and style baked in.  This means that customers will feel that the emails are not templated, and instead arrive from a sales professional who will be a pleasure to do business with.   The best sales emails are clean, readable and most importantly are personalised to put your best foot forward, giving you maximum chance of moving the sale to the next stage.
Define Why
One of the biggest sources of stress at work is the sheer volume of emails that people receive. So, before you begin writing an email, ask yourself: "Is this really necessary?"
What really helps is to define why you are using these selling tools at all.  What is their purpose?  What are they good for, and not good for? Also, email is not as secure as you might want it to be, particularly as people may forward emails without thinking to delete the conversation history. So, avoid sharing sensitive or personal information in an email, and don't write about anything that you, or the subject of your email, wouldn't like to see plastered on a billboard.
And be careful to strip away negative emotion:  "I've been trying for ages.."  It's not THEIR fault that they haven't replied.  Let being ignored wash over you.  It may take numerous tries to get a response.
(Tip – be sold to – it really helps to be a customer.  Put your details into various website lead forms.  Notice how others sell to you.  What works?  What's annoying?  Any good lines or approaches to make your own?).
Make it Human!
Make it conversational. Use 'you' and 'yours' rather then 'we' and 'us'. If it helps, record yourself speaking the words, then transcribe it. Use their or their company's language style.
Make it Brief
Strip away all the fat, until there is just the protein of the message. If we can train ourselves to shorten, strengthen and add impact to messages, then we increase the chance of people reading it all.  And we win.
Proof Read
We estimate 25% of people will get instantly turned off by an obvious spelling or grammar error.  And another 25% will find it frustrating, feeling that it may reflect on the type of company GC is, and your brand.  Why put all your hard work in to get rejected for such a silly reason?
Get your timing right
In recent Hubspot research, in general, the highest engagement rates are 9am – 12pm at 34.9%, and 12pm-3pm at 27.6%. The data reflects when most audiences begin or take a break in their day and have the most time to check their emails. Again, keep your specific audience in mind and think about when they may have the most downtime to check emails.
Improve your sales prospecting
Forget those old prospecting myths, there is plenty of opportunities out there if you're willing to invest the time and effort into prospecting.
If you want to improve in all these areas, our Prospecting with Purpose training programme is designed to give your team the skills they need.
Got a comment?
Catch us on Social Media and join the discussion!