Customer Mindset Training
Dell is always on the lookout for ways to improve the customer call centre experience, especially in light of too many customers feeling disenchanted as shown by Dell's customer service ratings—their Net Promoter Score was 17%.
Dell went out to tender for a large program encompassing their Consumer Small/Med Business (CSMB) division. That's 18,000 people in 26 countries speaking 9 languages.
Dell chose Natural Training because they'd seen the award-winning training work with EMC. Dell also felt that Natural Training's Design Team, led by Founder Matt Drought, has the creativity and ability to craft something truly innovative and effective to meet this challenging international training programme.
Call centres on the other side of the world were not being empathetic with customers who were crying out to be listened to. Matt and the Natural Training team worked with psychologist Barry Knights to put together a training programme focusing on that natural (yet underused) human emotion—empathy.
The training was split into 5 parts including a high energy experiential game designed to put the call centre operatives right in the heart of a customer's frustration so they could truly empathise.
Other highlights from the training included hands-on, learn-then-do activities to get closer to the customer's viewpoint, to understand their mindset, and to go the extra mile to deliver outstanding customer service. As part of this, Natural Training produced a 6-minute customer video that highlighted both Dell's superb products and brought empathy to life through warm, human touches.
Messages were subtle and mostly developed by the participants themselves. They went away with a much greater ownership of the new Customer Experience.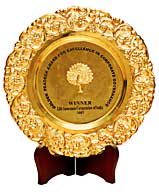 The programme was tested with two target market groups in Bangalore, India, with outstanding results. It was then rolled out to the rest of the world in 28 countries and 17 languages to many accolades. Some of the positive comments were "new," "revolutionary," and "will change the way I deal with customers forever."
The true, telling result of the programme was Dell's rising Net Promoter Score—up to 43%. Another successful result was winning the most prestigious award in training, the Golden Peacock Global Innovation in Training Award.
The team is great to work with – exceptionally creative and innovative and looked for different ways to bring training to a new level – all of this was achieved. We moved our NPS Score 8 points – a remarkable achievement from one programme. I can recommend Matt & Natural training – and look forward to working with them on future projects.

Deirdre Mooney


Global Sales Onboarding Strategy & Enablement at Dell Technologies