How Top Salespeople Don't Let Slow Buyers Hold Them Back
Sometimes trying to get a firm commitment for WHEN from a prospect is the difficult bit! You need to know when a prospect can meet, when will a decision be made, and when can you deliver or install your product or service. That's a lot of when's you need to figure out.
Over 50% of salespeople close at a rate less than 40%. —HubSpot.com
The sales process can get stretched out for a variety of reasons, some of which rest solidly on your shoulders, but some of which can be laid at the doorstep of slow buyers.
Before you jump to the conclusion that you're facing a slow buyer, ask yourself these questions: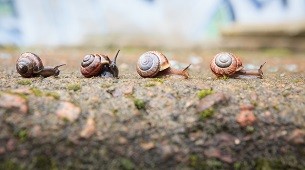 Did I give all of the information a buyer needs to make a decision?
Have I dealt with all of my buyer's objections appropriately?
Did I create enough urgency to move the sale forward?
If you answered "yes" to these 3 questions, you might be dealing with a slow buyer. Here are some tips on how to move a slow buyer through your sales process.
1. Figure out your prospect's buying persona.
He or she might fall into one of four personality types when it comes to buying, and you need to make sure you accommodate that style to help move them along the sales cycle.
Firstly, someone who's more analytical in nature will be most interested in the proof you can offer. They respond best to facts and figures. The more statistics and evidential information you can provide, the better.
Secondly, a driver personality will want to get right to the brass tacks. They want to know that what you're selling will truly address their issues and won't create more work for them. A driver wants you to be direct and to-the-point.
An emotional personality needs to be reassured that the relationship with you and your company is going to work well. They need to know that you will mesh well with their needs and that you'll be responsive and trustworthy.
Finally, a truly indecisive buyer needs to be lead gently with more personal assurance that your solution will truly work. There might be a bit of hand-holding involved to ensure that they're comfortable making the decision.
2. You determine the date for installation or delivery.
If your prospect is committed to buying, but just can't come up with a date to sign a contract, you start with the date that you can deliver and work backwards from there. You know the timeframe it takes from signing the contract to date of delivery, so you can figure out when you'll need a signed contract. You'll also know how long it will take to generate the contract, so work that into your timeframe.
There are probably more steps that need to happen between signing and delivery, but this gives you an idea of how to discuss a commitment date with your prospect. This will help you guide your prospect into setting a firm date for signing and for final delivery.
3. Be specific, not fuzzy.
It's in your nature to be vague when talking about dates, but resist that temptation. Too many times, salespersons will say something like "I'll need about a week to put together this contract and will get in touch with you after that."
Rather, you should pin down definite dates. "I'll have this contract ready early next week. Would Tuesday or Wednesday be better for me to bring it by for your signature?"
Confirm the signing appointment in advance, and make sure the prospect knows that this is not another presentation, but simply to get a signed contract to start the ball rolling. Also ensure that all decision makers will be present if their signatures are required.
When you're faced with a slow buyer, determine what type of buying personality you're dealing with first so that you can tailor your discussions in a way that will resonate most with them. Then take the initiative and guide them through setting a firm installation or delivery date and getting a commitment to sign on a specific day. You'll be much more successful in keeping the sales process from stalling if you manage these types of buyers from the start.
Natural Training offers world class sales training programmes in managing the closing process – designed around your natural abilities and your company's culture. Contact us if you'd like to discuss how we can help you increase your closing rate and crush your sales quota—each and every time.
Got a comment?
Catch us on Social Media and join the discussion!
Liked this article?
Subscribe to receive sales insights and tips directly to your inbox.