Why Leaders Should Love Negative Feedback
No one likes to be criticised, or worse, told they suck. Negative feedback stings. Criticism may be tough to swallow, but to the astute business leader it screams "opportunity" in bold, flashing neon lights.
A leader needs a high degree of self-awareness and that means an honest appraisal of leadership competencies, strengths and weaknesses.
Pretending everythin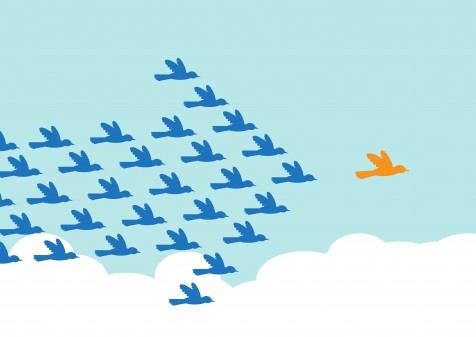 g is hunky dory when it is not is the fast track to failure.
Some leaders worry that responding to critics makes them look vulnerable and could be perceived as a sign of weakness. However, the best performers know that even when they're on top of their game and firing on all cylinders, there's still room for improvement. Recognising failures and mistakes will help you to improve your leadership skills.
Positive feedback is very easy to come by and generally happens automatically. Negative feedback is harder to find because employees will rarely criticize bosses to their faces. Yet, it is much more valuable than a few sycophantic pleasantries.
The late educator and public administrator John Gardner summed it up neatly when he said: "Pity the leader caught between unloving critics and uncritical lovers."
Once you have found "loving critics", how can you turn their feedback into leadership gold?
Don't panic – don't let your ego and emotions stop you from learning valuable lessons. When it comes from a good place, negative feedback is not attacking your intrinsic worth. It is saying that there is something that needs to be corrected. Negative feedback is essential for leadership development because no one is perfect.
Listen carefully – positive feedback rarely contains anything useful that can be acted on. Listen carefully and attentively to find the nuggets of useful information within negative feedback.
Ask questions – it may be difficult to ask further details about your performance, but it demonstrates that you are eager to listen and willing to learn. In turn, this is a wonderful example to set employees who will realise that it's OK to make mistakes, that they are in a learning and creative environment. With such self-awareness, organisations are in a strong position to move onwards and upwards.
Take responsibility – don't look for excuses. Once you admit your faults or failings, you can then start to focus your attention on correcting them.
Up your game by setting demanding goals – leaders who do not stretch themselves tend to be working on automatic pilot. They receive mostly positive feedback and the company just plods along. The leader who sets demanding goals will falter, but it is from these mistakes that valuable lessons can be learned.
Tamara Mellon, the co-founder of the Jimmy Choo luxury shoe company puts part of her success down to the lessons learned from her father, who was also an entrepreneur. When she was a child he would ask her, "What mistakes have you made this week?" and encourage her to look for ways of avoiding making them again.
Turn Feedback to Your Advantage
You may not want to hear a few home truths from customers, employees or business partners, but dismissing them out of hand or getting defensive can be ruinous to your organisation. Having the strength to open yourself up to criticism provides fantastic learning opportunities for you and your company. Instead of letting negative feedback hurt you, look at ways of turning it to your advantage.
Last year, we ran a highly successful training event for the Leaders at Clarins – helping each of them to find the time to hit their financial targets, while also coaching, leading and inspiring their team. In order to this effectively (and to keep it up) they had to face some negative feedback. It helped them thrive.
Read more here – Clarins & Natural Training: The Ultimate Leadership Training Experience
More articles relating to Leadership:
Effective Leadership Communication: Carrots or Sticks?
The Winning Ways of a Great Leader – Sir Alex Ferguson
For information on any of our leadership programmes, please give one of our consultants, give us a call.
Got a comment?
Catch us on Social Media and join the discussion!
Liked this article?
Subscribe to receive sales insights and tips directly to your inbox.