How Adults Learn – Naturally
Transforming teams, naturally
At Natural, we don't believe in training, we believe in results.  And the best way for adults to get results is by paying close attention to the principles of adult learning.  With Natural, your people learn to change over time, supported by the latest thinking, adult learning and business concepts.  Here's how we do it: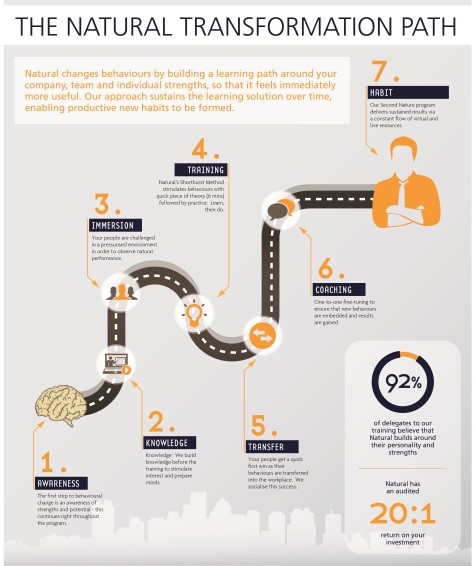 1.  Awareness
The first step to behavioural change is a strong awareness of the need to change.  This awareness of strengths and improvement areas is an important first step, and it continues right throughout the program.
At Natural, we build a strong awareness at the start of our programmes, highlighted by the benefits of doing so.
2.  Knowledge
Adults like finding out interesting new bits of knowledge served in the right way.  At Natural, we build knowledge before the training to stimulate interest and prepare minds.
3.  Immersion
Your people are observed and challenged in a real-world or simulated environment in order to explore natural performance and improvement areas.
4.  Training
Fresh and relevant ideas built around your strengths.  Natural's Shortburst Method(TM) ensures theory is kept to a minimum, with high participation.   Learn, then do.
5.  Transfer
New behaviours are transferred from training to workplace.  We encourage the first win, and socialise success to the rest of the group.
6.  Coaching
One-to-one coaching to ensure that new behavours are fine-turned, embedded and generating results.
7.  Habit
Behaviours become habitual supported by our Second Nature sustained learning program.