Presentation skills tip: Hope, Believe, Know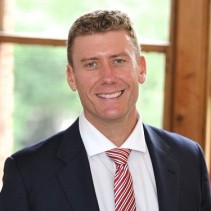 I was listening to a podcast called Business Daily from the BBC, and a guy who just had a near fatal accident was interviewed.
He kept on getting told by Doctors that he couldn't be cured, so he decided to set up a company to research his own condition.
The interviewer asked the following question:  Can you heal thyself?  (Not sure why he asked it that way, but mine is not to pick fault at thou…)
The answer that followed I thought was worthy of sharing with you.  It takes around 50 seconds, and you can listen to it here.
Or read the slightly edited version:
My hope certainly, and my belief, is that I will.  I believe that I'll see you at Fire next year.  And I will see you without the cane…and without the limp, and full use of my left hand and full restoration of my…renowned cognitive abilities.  I can't promise that will happen, I don't know.  Here's what I can tell you for sure:  I know now that what I hope to achieve is possible.  And I know that a year ago it wasn't.  I think that's important.
Why this answer caught my ear:
It had an impact on me because it was personal – really from the heart.  And therefore convincing.
For those of you who have completed our presentation skills training, you'll know we put a priority on content.
Natural, energetic, enthusiastic delivery skills will follow the certainty and confidence you achieve by having some outstanding messaging.
There's something wonderful about the simple, highly effective structure of this answer, which I'll call Hope, Believe, Know. It's about giving us the ambition first (hope, belief) and then the reality (tell you for sure, know).
It's frank, it's real and it's natural.
I think that this approach could equally apply to a new business pitch, or a presentation to internal stakeholders.
For example, say you are implementing a new enterprise-wide CRM system:
My hope, and my belief, is we can do this CRM implementation, and we will do it with management and staff support, we will do it under budget and when it does happen it will be the best thing that has happened to us, for all the reasons I outlined earlier.  I can't promise that it will happen – I don't know.  Here's what I can tell you for sure:  I know there is a team committed to working on this around the clock, and that we all know it is possible.  And I also know that 6 months ago it wasn't possible.  I think that's important.
You might be able to use it yourself for one of your upcoming presentations or meetings.
I think that this sort of structure will win you more trust in sales, giving your prospective clients more of an insight into you as a person.
We have lots of small, but significant tips like this in our presentation skills workshops, both openwhere you come to us and in-house where we come to you.
Got a comment?
Catch us on Social Media and join the discussion!
Liked this article?
Subscribe to receive sales insights and tips directly to your inbox.