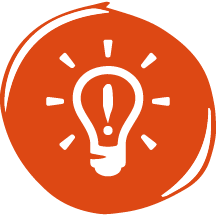 Insight Selling
Natural Insight Selling
Business acumen to change their world
Natural Insight Selling is a modern selling method that bakes considered insight into your sales process 'touchpoints', designed to provoke customers to lean in and take action.
Executed in the right way, and for the right sales team, it can be a much more enriching experience for both buyer and seller.
Natural Insight Selling is perfect for enterprise selling teams or those selling to executives higher up the food chain, such as C-Level. We give you the toolbox and skills to have insight-led conversations with clients that change their world, their perspective, and the way they think.
We give your customers a story to tell, while making them feel you are a thought leader in your industry.
This training works well as a 'little and often' programme, ensuring that your sales team "learn, then do", to encourage significant behavioural change.
At Natural, we help your team 'sell while you train', meaning that we generate real results, connections and leverage among the markets you most want to impact.
We hope you get to experience the power of this programme soon, which will help your team to provide a proven point of difference in the market, generating more quality pipeline and closing more deals.
Content Includes:
The psychology of insight – why insight is the new Challenger Sale
Your team learns Natural Insight Conversational Model to bake insight into your customer conversations
10 methods to uncover insight that will help your customers
Ensure prospects listen, react and appreciate the insight you bring.
Become a genuine point of difference, in the way you talk and how you sell.
Tailor the message for different senior stakeholders in the C-Suite.
Make a strong, value-based link between your price and their outcome.
Provoke prospects and customers to take action NOW.
Natural represents a cultural shift around insight which is interactive and different. It's about adding true value to your customers.
Rachel Lowley


Virgin Media
Very good, insightful and tailored to Odgers! Shows knowledge of recruitment and our product. Our point of difference is the insight we provide. 10/10
Caroline Lacey


Odgers Berndston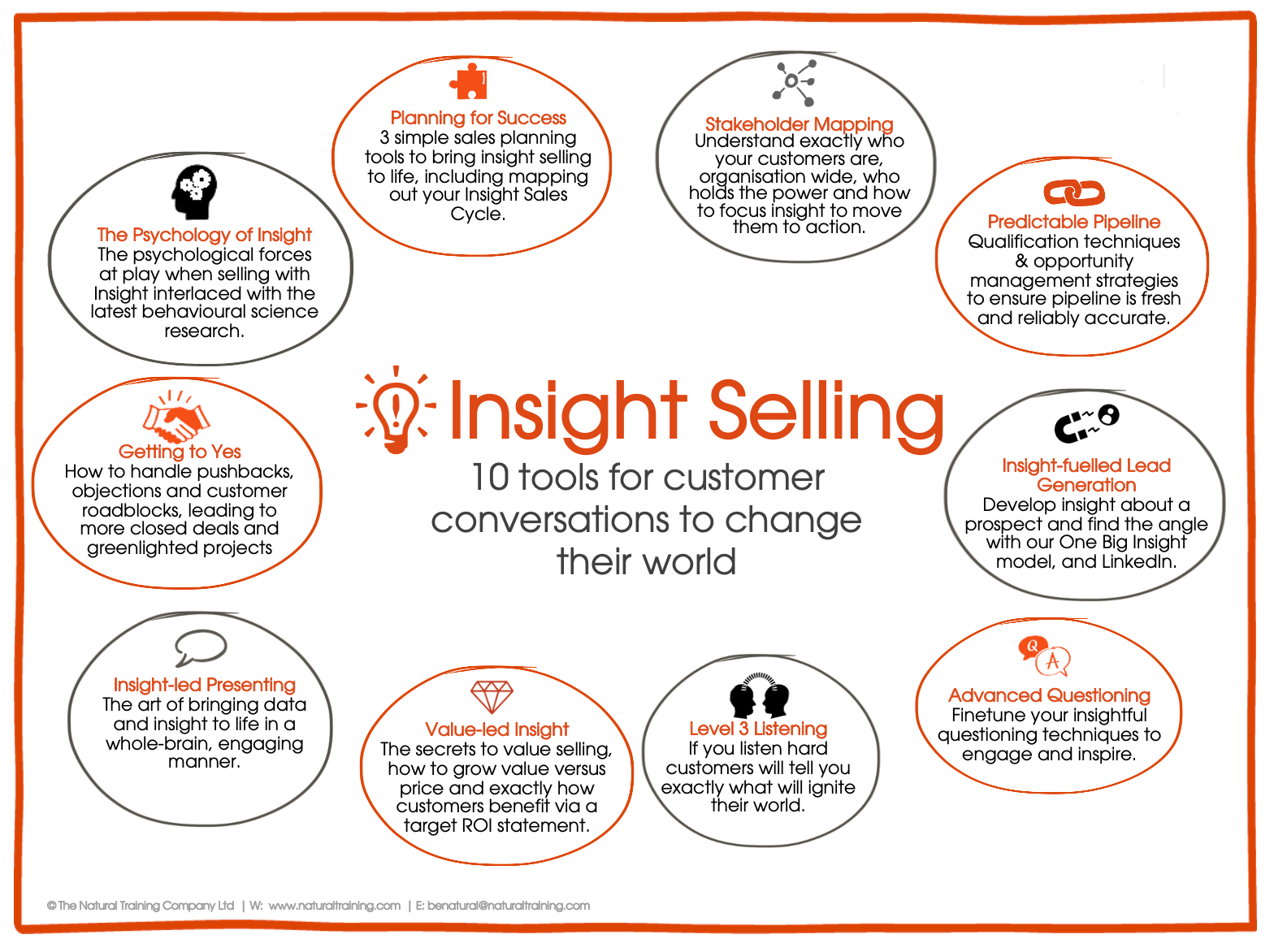 Case Study Heading
Insert brief description here
Your Natural Blended Learning Journey:
Welcome to your Learning Pathway! The 8 workshops are your 'go-to' learning events, separated by some time at work to give you a chance to bring the learning to life. In between workshops there are Blended Learning resources such as bespoke trainer Video Boosts, Coaching Video Calls and Quick Win Assignments. This easy to absorb, 'little and often' learning pathway has been Natural Training's 'secret sauce' since 2005!
Three Manager Workshops: We stay actively engaged with your Managers throughout the journey with workshops and a Coaching Kitbag to ensure your team has the right level of coaching support to change selling habits forever!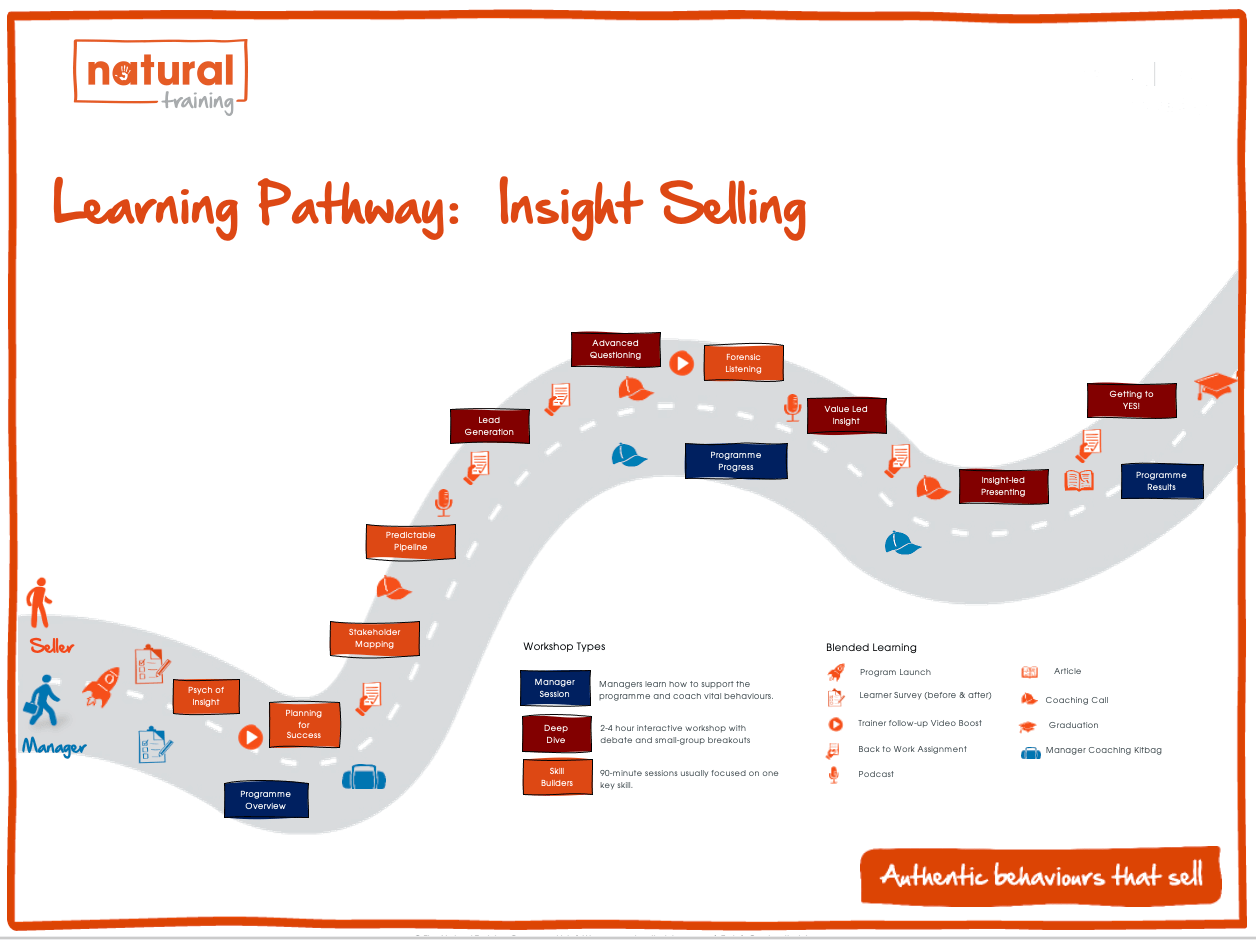 Let's make it yours – naturally..
Please give us a call to arrange an in-depth consultation to work out how we can make the programme feel and look just right for you, with your stories, your products and your people featuring prominently.