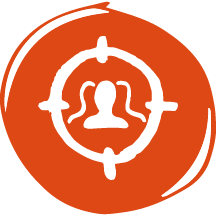 Prospecting with Purpose
Prospecting with Purpose
Meaningful & authentic outbound opportunity generation
Is your team prospecting regularly and generating opportunities?
Is prospecting viewed as a chore, or an an opportunity?
Does the team need to have more impact on the phone, email and LinkedIn?
Natural's sales prospecting training programme is a proven training event designed to stimulate the prospecting 'muscle' in your sales teams, ensuring that a regular flow of new opportunities comes into your organisation.
The difference is in the name.  When we prospect with purpose, we have a different mindset.  We make our calls habitually, with the right amount of energy and drive.  Our attitude is open, positive and 'can-do'.  Our method is strengthened with powerful objectives and messaging.  Our tone is assertive, authentic and warm.
Prospecting with Purpose puts a spotlight on the most important behaviour in sales, showing your team that with the right techniques, prospecting can be simple and rewarding.
Establish the right prospecting mindset of purpose, resilience, positivity and energy.
Rediscover the phone as the primary prospecting tool.
Develop excellent prospecting habits utilising the latest selling tools and platforms such as LinkedIn.
Establish the right prospecting mindset of purpose, resilience, positivity and energy.
Create a team culture where 100% of the leads are sourced and won from their own skill base and determination to succeed.
Excellent. I found the trainer really engaging and energetic, pumping some great energy into the team and building confidence in what we are doing and saying.
Melanie Baker-Frith


Account Executive, COOLSPiRIT
10/10 – engaging and totally applicable to our roles. Ongoing I will focus on my sales process and prospecting techniques. Extremely informative and enormous learnings. Amazing – full of energy…
Ste Dutton


Commercial Account Director, GBG Plc
Your Natural Blended Learning Journey: Case Study Heading
Insert brief description here Let's make it yours – naturally..
Please give us a call to arrange an in-depth consultation to work out how we can make the programme feel and look just right for you, with your stories, your products and your people featuring prominently.