Secrets of Selling to Procurement
Procurement don't always focus on price – they just want you to think they do
Programme Outline
Is your sales team increasingly faced with selling to more experienced negotiators from Procurement and professional buying agencies?
This may mean:
You get to the "last 2 or 3" in formal RFP and tender processes – but don't win often enough?
You might 'win' some, but those deals have virtually no profit left?
Your salespeople and account managers feel a sense of helplessness and frustration because they cannot seem to create relationships or move beyond price to build value?
Our breakthrough programme THE SECRETS OF SELLING TO PROCUREMENT will help your team to develop profitable relationships and negotiate successfully with Procurement and buyers who are trained negotiators.
The result? A sales team that feels more comfortable and confident about dealing with Procurement professionals.
How do we do it?   By giving your team the professional secrets held by Procurement, enabling an equal seat at the table.  Companies like Canon and Firebrand have recently completed the training, and have achieved strong results.
If you would like to know more, and receive a free information pack, please reply below, and let's get your sales team more confident, strategic and successful using our simple, proven training.
Key Programme Benefits
1. You can influence and coach Procurement as easily as you can anyone else
2. You can manage Procurement's stakeholders better than they do
3. You can influence the supplier selection process
4. You can influence how they really see cost and value
5. You can create a negotiation that gives you an equal seat at the table.
The Secrets of Selling to Procurement will help your team to navigate through Procurement with your price list as protected as possible – by giving your team the professional secrets held by Procurement and used every day.
Really well structured training, great real-world examples from the instructor.
Martin Carrick


Firebrand
You showed my team that Procurement can be open to interpretation and influence just like anyone else. In the 3 months following Secrets of Selling to Procurement our sales team has sold £87K worth of revenue as a direct result of the training. That's a 90-day 8:1 ROI.
Rob Chapman, Co-CEO


Firebrand
Your Natural Blended Learning Journey:
Welcome to your Learning Pathway!  The 8 workshops are your 'go-to' learning events, separated by some time at work to give you a chance to bring the learning to life back at work.  In between workshops there are Blended Learning resources such as  bespoke trainer Video Boosts, Coaching Video Calls and Quick Win Assignments.  This easy to absorb, 'little and often' learning pathway has been Natural Training's 'secret sauce' since 2005!
Three Manager Workshops:  We stay actively engaged with your Managers throughout the journey to ensure your team has the right level of coaching support to change selling habits forever!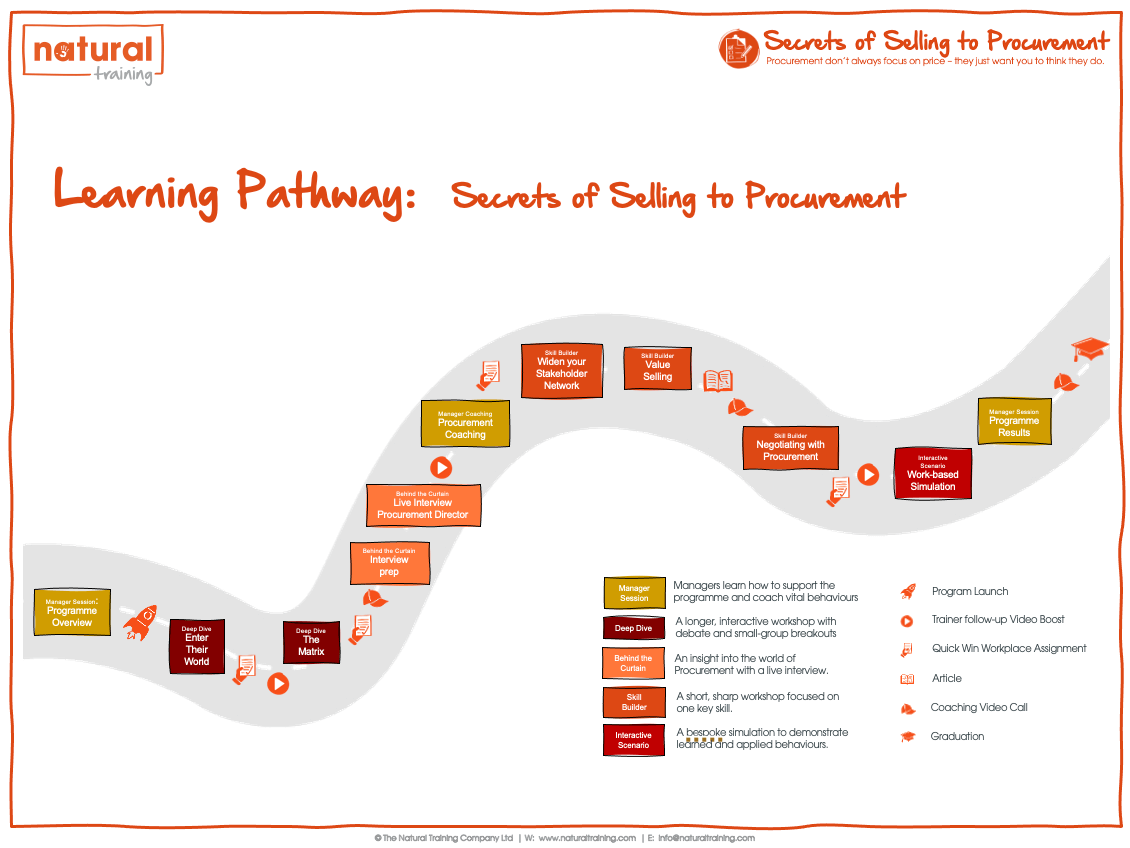 Let's make it yours – naturally..
Please give us a call to arrange an in-depth consultation to work out how we can make the programme feel and look just right for you, with your stories, your products and your people featuring prominently.