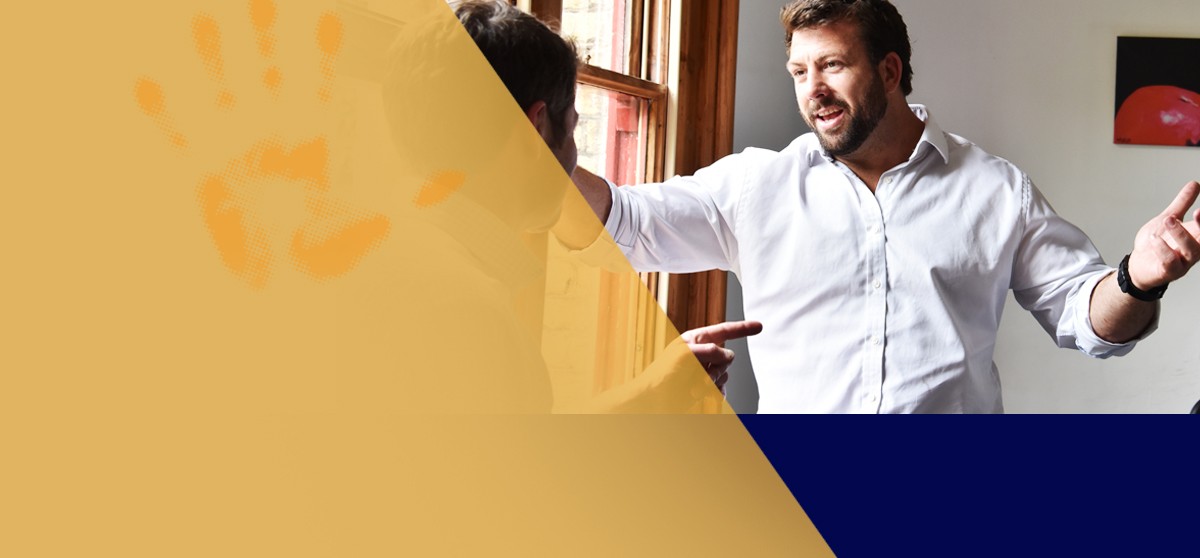 Sales Cycle
Natural's approach to all 8 stages of the sales cycle
Helping business at all stages
Natural Training helps your business at all stages of the sales cycle. There should be no weak links – you should be converting customers from one stage to the next with confidence and clarity. Check out the natural sales cycle below:
1. Attitude and energy
Is this a part of your sales cycle? Absolutely. If your people don't have the right attitude prior to engaging with your prospective clients, then you are behind before you start. Attitude is all about the life that your sales people bring to their role. It's about tone of voice, appearance, proactive selling energy, demeanour, positive outlook, beliefs, approach, manner and mindset. It has been said that you can't train individuals to have the right selling attitude. We disagree. At Natural Training we can bring about fundamental attitude & energy adjustments to your sales team because we take the extra time to fully understand your environment before our sales coaches walk into the room. The right attitude in many ways is about having the right tools to apply to the task, and the right mindset to make it happen. At Natural Training we will be able to help measure proactive selling energy and then help motivate your team to a newer, sustained level. Call us and let us know what sort of attitude your team are taking to selling and cross-selling your company, products and services. Or fill out this short form and we'll be back to you – displaying the right attitude of course!
2. Strategy & Planning
Do you feel like your sales results are erratic? This is a lot to do with the strategic planning of individuals within your team. In order to sell effectively individuals in your team must put some conscious thought, planning and commercial awareness into the sales process. At Natural Training we can give you some simple sales planning & time management tools that will iron out inconsistencies in your sales process, while helping individuals to target and close higher revenue clients. Our strategic planning tools & exercises such as our Natural Sales Planning Dashboard© will help your team to prioritise the most important tasks and become much more productive and successful.
3. Prospect & Connecting
Individuals in your team should be prospecting in a focused, driven way. If your team is not spending quality time and effort discovering new business, then we can help with advanced selling strategies to help them hunt, spot and develop opportunity. Once they have successfully uncovered opportunity, it's all about connecting with your clients in the right way – developing a positive first impression, rapport and getting the relationship off to the best possible start. We have techniques for all sorts of selling environments – from hard sales environments to softer environments where you may want to add some simple prospecting techniques to the existing skill-sets of your account managers or helpdesk teams. As always, our prospecting and connecting techniques suit the natural style of the individual.
4. Consulting skills
The way your team applies incisive questioning skills and listens to what is being said by the client will be the lifeblood of your sales process. Successful selling is almost completely about the way you define the customer problem, and so the rewards go to the sales people with the best questions. But it doesn't stop there. Successful consulting skills is about how you absorb and then use the information you receive. It's about how well you follow the thread, build a picture and offer a viewpoint. Importantly it's how well you relax the client and by doing so encourage them to speak to you candidly about their problems. Successful consultants have spent time, effort and energy on learning consulting techniques that work to engage clients and help find their pain. Has your team spent the time necessary to understand what consulting is all about, or do they rely on the same 2-3 mind-numbing questions that your competitors also use? You owe it to your team to invest in this skill and they will repay you tenfold by uncovering many more sales opportunities and generating much more revenue from each conversation. At Natural Training we have some of the latest techniques tapping into why us humans behave the way we do.
5. Communication & Presentation
The poor sales person always pitches too soon. The professional sales person will first establish a clear client brief via great consulting skills, and then communicate a relevant, well-structured, clear, exciting and memorable argument back to the client. At Natural Training we help teams with the skills to make every word counts, with a focus on the spoken word, not PowerPoint. Our simple yet very powerful communication and presentation skills training will help your people to cut through the clutter and deliver powerful and persuasive messages that sell. Tools such as our SmartStructure ® and FocalPoint deliver outstanding presentations that enable your team to look your prospects in the eye with a minimum use of notes and move them to action.
6. Handling Objections
Usually there is too much work that has gone into your sale for everything to be lost at objection stage. We help your team to see objections coming much earlier in the sale, to mitigate against them, and to expertly deal with them when they do arise. Most importantly, it's not a matter of verbally stomping all over your client's objections. Usually they are a valid part of the sales process, a normal aspect of natural human behaviour, and in many cases a great buying signal. So we teach your team to treat objections with pathos, maturity and professionalism, ensuring that they fully understand the objection prior to attempting to solve it.
7. Negotiating & Closing
At this point in your natural sales cycle you must ensure that both you and the client negotiate towards and then close a deal that puts a smile on both your faces. Your revenue margins must be protected, and the client should already be referring you to their friends and colleagues. Often clients (or salespeople!) display some anxiety at this stage which can mean deals fall over. Our negotiation skills training and closing skills training will give your team the confidence to help them relax the client and help them feel secure in their decision. Our negotiation skills training will give your team the confidence to handle the most difficult, challenging and aggressive situations successfully. Our closing skills training will ensure that your team has the confidence to ask closing questions that suit the natural style of the individual, and the right closing techniques to help the client get to "yes" (reciprocation and scarcity are two human behavioural concepts that we use).
8. Drive Sales Growth
The cost of acquiring and converting a new customer is high. For many businesses, break-even doesn't happen until Year Two. So, when you do acquire a customer you need to ensure that your sales people and Account Managers uncover more opportunities to drive ongoing sales growth. The close is where your sales should start, not end. Natural Training is the expert at helping you to delve wider and deeper into Accounts and discover new links, new contacts, new angles and fresh ideas to ensure that Year Two is double the revenue of Year 1. We have also helped Client Service teams, Helpdesk teams, Creative teams and Admin teams to become more sales aware that helps drive sales growth at all levels of your business. If your database of contacts and clients is not being worked well enough then our training will help.
Call us today on 0207 043 1582 and our expert consultants and sales coaches will share some insights into those areas of your sales cycle where you could be closing more new business.